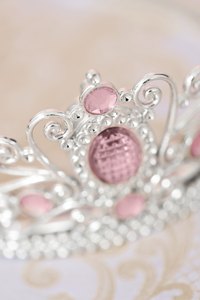 Stepping through the gates and into Disney World is a moment that will delight any little girl. Taking extra steps to make your daughter feel like a princess will make it a day she'll never forget. The Disney parks offer several paid extras that will help you dazzle your miniature Cinderella, but there are also a few free things you can do to make her feel like royalty.
Dress Her Up
Adults aren't allowed to enter Disney World in costume, but little ones can channel their inner princes and princesses. Pack your daughter's favorite princess dress or an outfit that will make her look like her favorite character -- like a bright yellow sundress and sparkly tiara if she loves Belle -- and address her by character name all day. When you first arrive at a park, stop by a guest relations booth. Every park has one, and these stops are labeled on park maps. Get a free button for your daughter to wear. It will earn her extra attention from cast members, and you can choose from options like "First Visit" and a more general "I'm Celebrating" designs.
Sleep Like Royalty
Pack up her favorite princess nightgown and head to a room at Disney's Port Orleans Resort, where a selection of rooms are decorated with a Princess Tiana theme. Even if you opt to stay elsewhere, you can bring a bit of princess magic to your room. Disney's Floral and Gifts department will deliver a special princess gift to rooms at select hotels. For a fee, you can order packages including items such as tiaras, princess autograph books and flower bouquets.
Pay For Extras
One surefire way to delight your daughter is to schedule a makeover at one of two Bibbidi Bobbidi Boutiques. There, a "Fairy Godmother-in-Training" will provide hairstyling, glittery makeup, nail polish and other princess-worthy pampering for girls ages 3 to 12. You can also book spots for you and your daughter at a Perfectly Princess Tea Party at the Grand Floridian Resort, or make reservations for a meal that features visits from Disney Princesses. Epcot's Akershus Royal Banquet Hall and the Magic Kingdom's Cinderella's Royal Table have these events. The latter is closed for renovations until spring 2015.
Spoil Her For Free
Check your park map each morning for scheduled meet-and-greet sessions with costumed princesses; they're throughout the parks. You can also download an app for your smartphone that will help you find characters nearby. Pose your daughter in front of Cinderella's Castle and crouch down to take a low-angle photo to block out other tourists, and make your daughter loom large in front of "her" castle. Keep a stash of princess-themed fruit snacks and stickers in your bag to keep her distracted in long lines and while waiting for the royally fantastic fireworks, light shows and parades held daily in Disney parks.