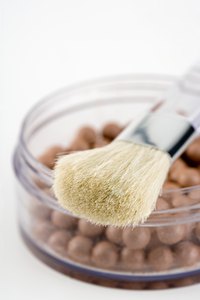 If you're one of those people who has tried everything to eliminate or reduce dark circles under your eyes and nothing works, your best option may be to cover them up. Even if you don't normally use makeup, just touching up under your eyes can make a huge difference. Start by applying a mineral powder foundation with a brush, as it will look natural and cover up those dark circles.
Things You'll Need
Mineral foundation powder
Makeup brush
White eyeliner or eyeshadow
Scoop up a generous portion of mineral foundation powder with your fingertip. Use your fingertip to gently smooth over the dark circles under your eyes. You may need to apply it thicker on the darker parts and thinner if you also have under-eye puffiness. By using your fingertip, you'll target those under-eye problems that are worse.
Take the makeup brush and gently brush it along your under-eye area, starting at the center of the dark area and working your way to the edges. This will smooth over any areas where the foundation was applied thicker and cause the foundation to gradually blend in with your surrounding skin.
Apply white eyeliner just under your eye, along the eye-lid. This light shade will make your eyes look brighter, and draw attention away from those dark circles under your eyes. The liner combined with the foundation will help to make those dark circles disappear!