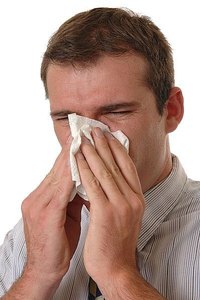 Is it the common cold or an allergy? It is important to know the difference between the common cold and an allergy, since they may share the same symptoms. But, if it's an allergy and goes untreated it can cause more serious conditions like sinusitis or ear infections. Follow these steps in order to tell the difference and know how to treat your symptoms:
What are your symptoms? Cold symptoms may include runny nose, sneezing, sore or scratchy throat, headache, fever, cough and pain throughout the body. Allergy symptoms are very similar: sneezing, coughing, watery eyes, runny nose or a headache.
Are the symptoms accompanied by a high fever? A high temperature and an achy body are not indicative of allergies, but may be caused by a virus, like the common cold.
How long have the symptom lasted? For most people, a cold usually lasts for about a week, while allergies can last for weeks or longer and can come and go.
Have you been exposed to someone sick? The common cold is a virus and is transmitted from person to person, while an allergy is caused by exposure to different allergens, such as pets, plants, pollen, foods, cosmetics, etc.