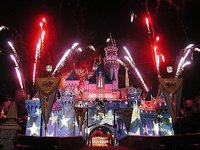 Disney's VIP Tours are an unbelievable way to experience Disneyland, even if you've been there dozens of times. Unlike a normal visit you get a "VIP Ambassador" to help you navigate the park. The guides attempt to put together the perfect Disneyland day by coordinating a schedule of rides, parades, shows and hidden gems(Like Club 33 and Walt's office). If you're not an employee this tour is the only way to get an insider view of Disneyland.
Things You'll Need
Six Hours to commit to the tour
Energy - Especially if you have kids
Plan Your VIP Tour Well In Advance.
VIP Tour reservations can be scheduled up to 90 days in advance. Due to the nature of these tours you have to plan ahead. In the next step I'll get into price but timing is everything. Do not try to book these tours without giving Disneyland 72 hours notice. An employee is scheduled per your reservation and Disneyland does not like to be left holding the bag. Call (714) 300-7710 for Reservations.

Price.
Ok here's the tough part. Disneyland charges $125 per hour for the VIP tour. There is a minimum of four hours when you book the tour. Keep in mind that this would be a completely custom tour. If you just wanted to walk around the hidden parts of Disneyland and discuss park trivia, you can. If you're doing research for a book or have a Disneyland obsession, I highly recommend this tour.
Go in the morning.
Disneyland is a magical place. But in the morning it's spectacular. Taking the tour early allows you to: A. See the morning "Ribbon Cutting Ceremony" that opens the park one hour early for Disneyland Hotel guests and VIPs. B. Get a jump on the rides with your VIP Tour Guide who will tell you about things you could never hear anywhere else and point out things you'd never notice in a lifetime of going by yourself. C. Have the rest of the day, after the tour, to explore Disneyland on your own.