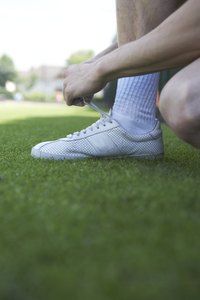 Many theme park visitors arrive in totally unsuitable footwear. Don't let aching feet or blisters ruin your day. Here's how to prepare with the right shoes for a long day of walking.
Theme parks mean pavement and that means you need cushy footwear. The obvious choice is an athletic shoe with socks.
Forget trying to look high fashion in any kind of high heel. You'll be looking for places to sit all day to rest your feet. Some cobblestone streets make walking in heels quite difficult.
Sandals with thin soles provide no cushioning on paved or brick/cobblestone streets. Save these for light walking days on your vacation. Sandals that have a good layer of rubber on the sole might work. Just be sure the straps don't rub. Tuck an adhesive bandage strip in your purse or wallet, just in case you get a blister
Flip-flops have a rubber sole, but the strap between the toes can rub and irritate the feet. They are better for the beach than for a theme park with hours of walking.
Thick rubber clogs provide plenty of rubber or plastic between your feet and the hard pavement. If you are used to these, they can be a good choice.