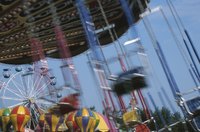 The family is having the time of its life at a theme park. Festive crowds, lots of sights and fun, but suddenly there's panic when you realize one child is not with you. Where could he be? Here's what to do to keep this from happening to your family.
Talk ahead of time with your child about what to do if you get separated at Disney or another theme park. Decide on your plan and make sure the kids know what they are to do. Point out what a theme park's staff member (with a badge) or cast member (Disney) looks like. Tell the child to go to one of them and ask for help.
Most importantly, hold hands. Of course, older children resist this idea, but it works for the younger ones. Theme park crowds make it hard to spot a child once you are separated.
Write your name and cell phone number on a piece of paper and put it into your child's pocket.
Get everyone in the family into the same-color shirts. It's a lot easier to spot junior in the crowd if his shirt is an eye-catching color.
For adventuresome preschoolers, try a cute backpack with a leash. These are sold in shops at the theme park or at a retail store, like Walmart or Sears.
Arrange to meet at a landmark spot in the theme park if you get separated. For Epcot, you could meet under the silver sphere. At the Magic Kingdom, meet in front of Cinderella's Castle.
Equip everyone with a cell phone and make sure the phones get reception in the theme park. Be sure everyone has each other's numbers programmed into the phones and that they know how to use them.
When riding the trams through the parking lot, put the child between two adults. Don't let children sit on the outside where they might slide off. This goes for any moving, open ride in a park.
Rent a GPS device. For a few dollars, you're prepared in case you are separated from your child in the crowd. You may have to order the device at least 10 days in advance, so plan ahead.