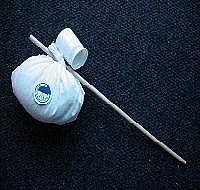 A bindle is commonly known as a bag on a stick. In some cartoons, we see vagabonds carrying them. Or, you might spot a hobo carrying a bindle out in the street! Learn how you can make your own bindle!
There are two parts to a well made bindle. Those are the kerchief and the bindlestiff. A bindlestiff can be anything from a sturdy pole to a wooden stick. A broomhandle works fine too, but a more common bindle will be ones that are made from a tree branch.
If you have trees in your backyard, try looking for a branch that looks sturdy enough to be carried. I find that willow saplings work the best since they are long, straight and strong.
Next, you must tie the kerchief on the bindlestiff. The kerchief is where it contains all of your hobostash. It can contain clothing, food, books, etc. Cut a cotton cloth about one square yard. Put all of your belongings inside, and make sure that you have enough space to tie two ends together. Wrap the upper portion of the bindlestiff as you tie your kerchief. Congratulations! You have now made your own bindle!