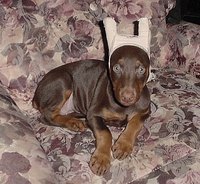 If you have a dog who has just gotten his or her ears cropped or are thinking about getting a breed to which this is typically done, this article will save you a lot of headaches.
When we got our first puppy, Abbey, a red Doberman, her ears were cropped and taped. The tape job was the original wrapping done by the vet just after the cropping. We took her to the vet to have the bandages removed for the first time. After that, it was up to us to figure out how to maintain her ears on a daily basis. We tried many of the standard methods out there, but this was the best we found. It was not only easier on us, it was more comfortable for Abbey and far less painful. And who wants to inflict unnecessary pain on their new little puppies?
Things You'll Need
First thing to do is have the original bandages and stitches removed by an experienced vet at the appropriate time. This seems simple, but if this is your first dog with cropped ears, a word of warning: make sure your vet has some experience in this area. After we got Abbey, we found out that very few vets in our area had any knowledge of this procedure. In truth, we got our first vet out of semi-retirement to remove the bandages because none of the younger vets could do it, and we still had a rough experience. Then we were lucky enough to find a vet who owned Dobermans and was more familiar with not only the care of cropped ears, but the breed as well. I highly recommend doing this before your pup arrives.
You may not want to be in the room when the bandages are removed if you have a weak stomach. When the ears are cropped, they are stitched along the edges and the ear is stuffed with packing. Some sort of post is inserted to keep them upright and then they tape the heck out of them. The tape removal itself is heart wrenching, and it really stuck to the hair on Abbey's ears. It was terrible to watch them remove it, and then the packing is filled with blood and pus. I am sorry if this description is graphic, but witnessing the actual event is worse, and you should know what you are in for.
After this was all done, Abbey got her first cone, to keep her away from the stitches, but her ears had to be re-taped within a day to keep them from "falling".
Ok, so now you have been through the goriest part, but there is still a lot of work to be done. You've got to be vigilant in cleaning the ears as prescribed so infection does not set in, and after you and your dog have gone through all that fuss, you don't want to prolong this process by leaving the ears untaped, but at the same time, you want your dog to be comfortable. We tried taping her ears with the post method that is most often suggested, but we found it difficult to find tape that would not stick to her hair, and our contraptions kept falling out whenever she played. Thank God we found a better way, and it is so simple you will laugh, especially if you have already tried some of these other methods.
You will probably need to make a trip to a pharmacy that sells surgical supplies in order to purchase the surgical glue. We did not find it at our local drug stores, but there is usually a surgical supply within walking distance of your local hospital. I'm sure you can find one in the phone book as well. You will only need one container of surgical glue since a little bit goes a long way, but get a few packs of molefoam. Molefoam can most likely be found in the foot supply area. It is about 1/4" thick, and is flexible, but stiff. Until you do this a few times and see what size you will need, I suggest buying the largest size pad they offer.
Once you have your supplies, cut the molefoam into a triangular shape with two long ends. Start large, you can always trim it. Remove any posting or bandages your puppy may have so that she is ready for this procedure and you can measure the molefoam to her ear.
Wrap the two long ends of the molefoam triangle together like you are forming a tube with a pointy end. The goal is for this end of the tube to rest on the little nub inside your dog's ear, right near the base. So adjust the diameter of the tube accordingly. You don't want to make it too small or it will not be good support for the bottom of the ear, and obviously too large will not fit. Once you have the correct size figured out, pinch the molefoam together and mark the measurement. Cut a second piece of molefoam to match the first and do the same to fit it in the ear. Measure each ear separately as there may be a difference between the two.
When you are sure you've got the molefoam measured properly, glue the two ends together. Hold it tight until the glue has set. Next, make sure your dog's ears are clean and dry. Apply surgical glue to the inside of the ear on all the areas that will come in contact with the molefoam. Follow the directions on the bottle. For some you may need to apply glue to both surfaces first. After the glue is applied, set the molefoam cone into the ear, resting down inside on the tiny nub I mentioned before. Stretch the ear (gently!) before sticking it to the molefoam so that there are no wrinkles. (Imagine smoothing a delicate piece of tissue paper onto construction paper covered in glue.)
Hold the ear until the glue has set, then give your puppy a treat-you and she are all done!

The surgical glue will gradually wear off, so reapply as necessary.

If you are trying to decide whether or not to get your pup's ears cropped, do whatever you think is right. They say cropped ears stay cleaner and are easier to care for, but we don't find this to be true. We have a Miniature Pinscher without cropped ears (as is the breed standard) and we find his ears are actually cleaner than Abbey's.
A little aside...if you wonder what a Doberman will look like without cropped ears, there are lots of pics on the internet because the breed standard in Europe does not require cropping.