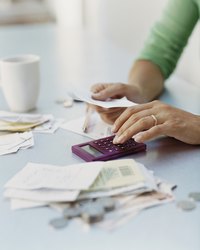 In a difficult economy, reducing your monthly expenses is often necessary. Fixed expenses, such as rent or car payments, provide little opportunity for savings. Variable expenses such as utilities and grocery bills, though, can be successfully reduced to save you some money each month. Financial management specialists at the University of Wisconsin extension program recommend looking for savings by examining each monthly expenditure with three thoughts in mind: Find a way to do something less often, buy it more cheaply or cut it out altogether.
Keep a log of all the money you spend during the course of one month. Write down every expenditure, particularly cash outlays that might vary from month to month. At the end of the month, review the expenditures and group them by category, such as fixed monthly bills, variable monthly bills, groceries and miscellaneous expenditures.
Study each item to identify potential sources of savings. Utility bills, while a monthly expense, might offer savings opportunities. Cut down on your water bill by taking shorter showers, watering lawns less often and not running the dishwasher unless it's full. Simple steps can also reduce your electric bill -- turn off lights, unplug appliances that are rarely used and use energy-efficient light bulbs and appliances. Look at your cable bill: Do you really need all the high-cost premium options? If you only watch a couple of movies each month, rent them for a few dollars at a DVD kiosk and drop the unnecessary movie channels from your cable package.
Look at each of your monthly credit card and bank statements. If you pay frequent surcharges for using ATM machines outside your bank's network, plan ahead enough so you get cash only when needed and only from your own bank's branches. If you're perpetually late paying your credit card bills, you're probably paying monthly late fees of $20 to $40 on each account. Save this money by making your payments a few days sooner. Don't be afraid to contact banks and credit card companies to request certain charges be reduced or dropped altogether, particularly if you're a long-time customer with a good record.
Cut food expenses by eating out less, taking your own food to work and shopping smarter. Replace your daily $5 fast food lunch with lunch from home four days each week. This saves you $20 each week -- over $1,000 each year. Limit your purchase of sodas, specialty coffee drinks or other snack items. Make pizza for four people at home for $6, instead of spending $20 for two pizzas from a chain restaurant. Cut out five large fast-food sodas each week and save $5; over the course of the year, that's $260. Use store and manufacturers' coupons, buy store brands and take advantage of weekly sales to cut grocery expenses.