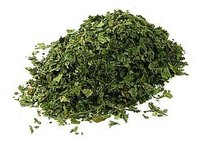 This tonic will reduce the build-up of DHT on the scalp, the leading cause of male baldness, and hair loss in women with thyroid disorders. It also encourages new hair growth.
Things You'll Need
nettle leaf
chamomile
aloe powder
burdock root
saw palmetto berry
flax seed
lavender flower or peppermint leaf
Take all herbs (in dried form) and place them into a piece of cheesecloth or similar fabric. Make sure there is enough room for the herbs to breathe. Tie the top of the fabric with a string or twist tie. (You will want to use about 1/2 tsp. Nettle, 1/4 tsp all other herbs.) The Lavender or peppermint are added to make the tonic smell better. If you like neither of these, you may also try clove, cinnamon or ginger.
Place the pouch of herbs inside a mason jar and fill 2/3 full with boiling water. Allow to steep at least 30 minutes, occasionally squeezing the pouch to release more of the herbal oils. Repeat process with same herb pouch in a second jar.
Pour the tonic back and forth between the jars to get a consistent batch. Fill the remaining space with hot water. Cap jars and store in the refrigerator until needed.
When needed, pour about 1 cup of the tonic into a squeeze bottle. A cleaned mustard bottle is good for this. Allow to come to room temperature.
Squeeze the tonic onto DRY hair slowly, rubbing into the scalp. Make sure to get the entire scalp. Squeeze any remaining tonic into hair, pile on top of head (if it is long) and let stand for 10 minutes.
Add warm water and shampoo as usual. If you use conditioner, do not condition the roots while using this tonic. Rinse with cool water.