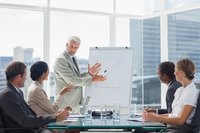 If you are afraid of public speaking, then selling your idea to an investor can be a nerve wracking thought. But if you want to go into business for yourself, you are going to have to get comfortable with selling yourself and your ideas. There are venture capitalists and angel investors who would love nothing more than to get in on the ground floor of a new and exciting business idea with great potential. It is up to you to make them see that your idea is exactly what they have been looking for.
Things You'll Need
Business plan
PowerPoint presentation (short)
Prototype or demo of your product or service
Do thorough research on the product or service that you want to sell. Is there anything like it offered locally, nationally or internationally? The more rare yet useful an idea is, the better your chances of selling it to an investor. How much are people willing to pay for your product or service? Who will be targeted for this new idea? This is all information that you will need to include in your business proposal to the investor. If need be, do a focus group or hire a research firm to do an official report on the potential of your business idea and include this information with your proposal.
Prepare a short PowerPoint Presentation and put together product samples (if applicable) for your meeting with the investors. Develop a full business proposal including financial data, an executive summary and information about yourself (see links for a business plan outline). Also write a two- or three-page summary of the business proposal for busy investors who just want to see the bottom line. The proposal should clearly detail how much you are looking for as an investment.
Set up a demonstration so that the investors can see with their own eyes how the process or product will work. For example, if you are selling a new revolutionary computer device or program, set up a computer in the conference room to show the investors how it works. If you plan on offering a new online research service for businesses, be sure that you have a prototype or sample site up so that they can see how it will be helpful to customers. Of course, you need to troubleshoot the product before displaying anything because a glitch could cause the investors to take a huge step back.
Find interested investors online and through networking in the community. There are a number of websites that allow you to search for potential investors in your area (see Resources section).
Book a conference room, or if your potential investors prefer, set a date to go to their offices to discuss the idea. You need to meet face-to-face with an investor in order to sell your idea properly.
The night before your meeting, do a practice run of how you will present your new business idea in front of a couple of friends or colleagues. Accept their feedback graciously and improve the finer points of your presentation.
Arrive early to your meeting with the investors so that you can troubleshoot your presentation and set up the conference room for a professional meeting. Dress in a suit and tie, or at least a shirt and tie (blouse and pencil skirt or slacks for women) if the investors are more "laid back" and informal. Do one more run-through of the presentation if possible.
Start off your presentation on a positive note and thank the investors for meeting with you. Identify the problem that you are looking to solve with your new business idea. Present your ideas in a clear, concise manner. Maintain regular eye contact with your potential investors, even as you talk about each slide in your PowerPoint presentation. Ask the investors to glance at your materials and financials as you describe your idea. Complete the demonstration of the product or service if applicable.
Answer all questions for the investors truthfully and as briefly as possible. When you go on and on about any one subject there is a tendency to say the wrong thing, or to talk yourself into a corner. After questions are done, thank the investors, shake hands, hand each of them a professionally designed business card, and ask them to call you with any additional questions.