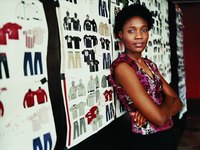 A fashion design business begins with a creative passion to design a product that consumers want. Though you might be motivated by creativity, if you plan to sell clothes, accessories or another fashion category, you will need to figure out who will benefit from these items and market to a specific target base. As with starting any business, you must establish a work space, determine the business structure, and apply for any applicable business licenses and permits.
Developing a Business Model
A business model should address the details of your business operations, why the business exists and how you will generate money. For a fashion design business, the business model defines the purpose of the fashion line, your target market, and how you are going to create, sell and market your line. The business model should begin with the design and creation of the products, including the brand identity and style. The specifications of the production process should include where the materials will be procured and transformed to the finished product. Finally, the business model should detail the distribution process and the method in which the products will be marketed and sold at wholesale or directly to consumers. Spelling out these things allows you to spot any weaknesses in your planning and gives you a road map to present to prospective lenders or investors.
Manufacturers and Suppliers
If you outsource production, you will need to establish a contract with a manufacturer -- either international or domestic -- that will transform the designs from your sketches to the finished product. Fashion schools usually have resources available to help aspiring designers find reputable manufacturers. Also, membership organizations in the industry, such as Startup Fashion, provide online resources about manufacturers. Finding the right manufacturer to produce your merchandise depends on evaluating the quality of the production and the associated costs for each company. You may also need to connect with material suppliers that provide the patterns needed to construct the products. Before sending your designs to a factory, you can hire a manufacturer that will create prototypes of your design before paying for large production runs. The manufacturer may rely on the sample as a model to produce bulk orders.
Storage and Inventory
You must establish a location where the products will be stored before they are distributed to your retailers or consumers. After the manufacturer produces the merchandise, the items must be shipped to a designated location. Depending on the stage of your business and how much space is needed, you can store items in a home office or a warehouse. If you are a retailer selling your product directly to consumers, the store can house your inventory.
Pricing Merchandise
You must determine prices for any of your designs to provide you an opportunity to generate a profit from each sale, taking into account the costs for designing, producing and distributing. If you plan to sell your merchandise at wholesale, you will need to determine the initial costs for bulk orders. If you are selling direct to the consumer, the prices should also cover the costs of such operations as storefront rental and sales help. Designers set their markup prices to target a specific gross margin percentage. Wholesale fashion designers generally try to receive a 50 percent margin, while retailers strive for at least a 70 percent margin.