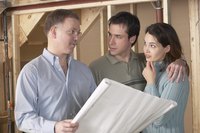 The days of handshakes to seal a deal in the construction industry are long gone. These days, it's important that contracts between contractors and subcontractors are carefully constructed, executed and followed throughout the duration of the project. When delegating work to a subcontracting company, one must evaluate scope, cost and conditions when drafting the contract. Both parties should be sure they are satisfied with the terms before the contract is signed.
Things You'll Need
AIA A401 subcontractor agreement
Basic project information
Bid or estimate from subcontractor
Schedule a scope review meeting with the subcontractor before attempting to write a contract. During this meeting, you will go over the bid price and review what tasks are included and excluded from the price. During this time, you and the subcontractor should also agree upon payment terms and general project conditions, such as safety and cleanup procedures.
Purchase an AIA A401 form. This document, produced by the American Institute of Architects, is considered the standard contract form between contractors and subcontractors in the industry. You can access the A401 directly from the AIA's website, which is listed in the resources section of this article. If you'd prefer, you can also purchase a single copy of this document from your local contractor's association.
Fill out the basic information required by the contract. Though standard clauses are included, as well as basic procedural and payment terms, you will need to add the name and address of your company and the subcontractor you are hiring. In addition, you should fill out the amount of the contract and add a list of any contract amendments that you plan to include.
Create a scope of work. This item is generally included as an amendment to the contract and should specifically list all agreed-upon items that are to be performed by the sub. This includes both general items and individuals tasks.
Add a schedule to the contract. This step is very important. One of the biggest problems in the construction industry relates to maintaining a proper schedule and delivering the job as promised. If you include a rough schedule in the contract, you have a better chance of keeping your subcontractor on task.