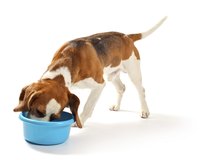 If you're concerned about commercial dog food, you may wish to make your own dog food. Venison or deer meat is a quality protein source and is especially good for dogs who might have allergies to common protein sources such as chicken or beef.
Venison as a Low-Fat Alternative
By choosing venison over other meats, you're offering your dog a high-quality, low-fat protein source. It has five times less fat than lean beef and has more protein. When it comes to vitamins, venison beats beef, hands down. Venison has more B vitamins such as niacin, riboflavin and B6. It also has more iron. Venison can help provide high-quality protein to dogs who require low-fat diets, such as those dogs who suffer from pancreatitis.
Add Vitamins and Minerals
Venison alone, however, is not a balanced diet for your dog. Your dog needs calcium added to prevent a calcium/phosphorus imbalance. You easily can add calcium to your dog's diet to ensure he gets enough. The amount of calcium citrate should be about 250 mg per 20 pounds of weight. Adding a good multivitamin to your dog's meal will help eliminate any imbalances. Talk with your veterinarian about dosages of human multivitamins for your pet. He or she may have recommendations of what vitamins are best. Your veterinarian may recommend multivitamins made for supplementing a homemade dog food diet.
Portioning Meat and Veggies
You'll need to offer about 4 ounces of meat per day for every 20 pounds that your dog weighs. You'll also need to add 1 to 2 cups of cooked carbohydrates, such as potatoes, rice, barley, sweet potatoes or other grains per 20 pounds of your dog's weight. Your dog will need about a tablespoon of fat per 20 pounds of body weight. Choosing fat that is high in omega-3 fatty acids can help both joints and inflammation. While not necessary, adding vegetables provides a nice change. Plan to add 1/2 to 1 cup per 20 pounds of body weight.
Be Legal
In some states, feeding wild venison to pets is illegal. Be sure to obtain venison from legal sources. If you aren't sure about the laws in your area, contact your local fish and game department for clarification.