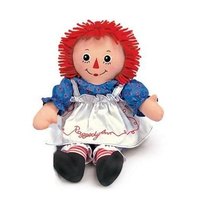 A rag doll invented in the early 1900s, Raggedy Ann remains popular a century later. A Raggedy Ann costume can be constructed out of common clothes found in your closet or second hand stores. When dressing up as Raggedy Ann, carry an actual Raggedy Ann doll as an accessory. For a mom with a very young daughter, mom can dress up as Ann while the youngster can double as the doll. A mother with a son can dress up as Ann while the little boy dresses as Raggedy Andy.
Things You'll Need
White apron (or sleeveless white dress) Blue skirt (for apron) Blue shirt (white polka dots on blue or blue and white checkered) Black shoes (Mary Janes) Red and white striped nylons Red yarn wig Hypoallergenic face paint
Layer the clothing. Start with a blue-checked or polka dot shirt. If you have a sleeveless white dress, you will not need the blue skirt. Use the blue skirt if you have a white apron. Substitute solid red or white tights for red and white striped tights if necessary. Wear black Mary Jane shoes.

Pin hair up and slip on a red yarn wig (see Resources). With a Raggedy Ann wig, go with the shorter hair look, but longer red yarn hair is acceptable in a pinch.

Draw red circles on your cheeks with the red face paint and fill them in. Rub red face paint onto your nose. Remember, you want to achieve a doll-like experience. You can use a base of white face paint for contrast, but this is typically very uncomfortable for younger children.

Paint your lips red and add some black mascara to touch up the eyes. You can add a white lace cap to your yarn wig to touch it up, but this is optional.
Photo Credit http://www.amazon.com/Russ-Berrie-Button-Eye-Raggedy/dp/B000BTP31G/ref=pd_bbs_2?ie=UTF8&s=toys-and-games&qid=1234816113&sr=8-2
Promoted By Zergnet