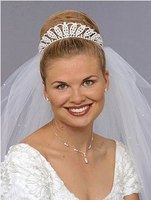 One of the most exciting days of many women's lives is their wedding day. If you are like most brides, you want everything to be perfect--particularly your look. One of the biggest parts of your look is definitely your headpiece, which will be, literally, your crowning glory. Many women believe that they have to choose between wearing a traditional veil and a headpiece like a tiara. This is wrong. Do not settle for a headpiece that fits some, but not all, of your desires. Make your own custom headpiece that will look wonderful and make you picture perfect.
Things You'll Need
Tiara or headband Glue gun Veil Scissors Digital camera
Do your hair in the style that you will be using for the wedding. This will help you determine whether you should use a tiara or a headband to accent your look, and it will give you an idea of what you will ultimately look like when your headpiece is finished while you are still in the design stage.

Arrange the facets of your headpiece as you want them to appear on your wedding day. If you want to wear your veil over your face, for example, then you will need to figure out whether that looks right with the tiara or whether a headband will keep your head from looking too bumpy. Also, determine how you want the veil to fall so that you can decide what parts to attach to the tiara or headband.

Have your friend take pictures of you and your arrangement of hair, bridal veil and headband from every angle possible. They will serve as a reference once you have removed the items and are joining them together to form a single, simple headpiece.

Snip the threads holding the comb to the veil. If your veil did not come with a comb, or if you are wearing a tiara and do not want your veil spread out more than it was when you were practicing your look with the camera, then skip this step.

Secure the veil to the tiara or headband. If you are fixing it to the headband, you should use the glue gun to attach the veil to the underside of the headband. Use many small dots of glue and work carefully in stages rather than running a line of glue along the interior of the band. Refer to the photos to determine how much you should scrunch the veil. This is a good look if you will be wearing the veil over your face and then flipping it back later because it requires no rearrangement of your hairstyle or headpiece itself.
If you are fixing the veil to the tiara, then you may be able to leave a comb intact and simply glue the comb at the proper angle to fit with your hair style to the back of the tiara. However, you will need to determine this depending on how spread out you want the veil to be. As before, use dots of glue rather than a line. If you are keeping the comb, secure the veil to the back of the base of the tiara, not any rhinestone arrangements higher up. However, if it suits your needs and you are not using the comb, then secure the veil to whatever part of the tiara you wish.

Let your headpiece dry for 24 hours. Keep it in a warm, dry place. Now, you are ready to play the picture perfect princess bride.
Tips & Warnings
Wearing a separate tiara or headband and veil will not work for an outdoor wedding because any breeze can dislodge the entire creation and make everything look awry.
Be careful with the glue gun, as coming into contact with the hot glue can lead to serious burns.
Photo Credit http://www.everafterbridalveils.com/image/obj111geo110pg4p8.png,http://briellemckenna.com/Bridal_files/bride_mirror.jpg
Promoted By Zergnet
How to Make a Wedding Veil

A wedding veil can be very expensive. For brides on a budget, you can avoid the cost of a store-bought wedding veil...

How to Make Feather Headpieces

Feather headpieces, also sometimes known as fascinators, provide a bold fashion statement for any occasion. Wear a feather headpiece, and you can...

How to Make a Wedding Veil With a Tiara

Making your own wedding veil with a tiara and tulle can be simple, even without sewing. Before beginning your project, look through...