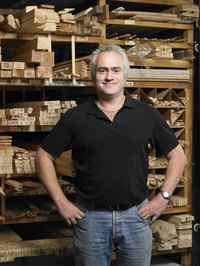 You don't need sterling credit to start a business, but you'll need to do more pre-launch work to convince potential lenders, investors or partners to provide you with capital. If you've got savings or other potential income you can use, that makes your task easier. Understanding what your options are when you're starting a business with bad credit can help you find other sources of capital and eventually get people to help fund your new venture.
Things You'll Need
Write a detailed business plan. When you have poor credit, people might believe you aren't a good gamble in other areas that require trust or confidence. Reduce the concerns of potential partners by demonstrating you have done your homework and have put together a sound business plan that addresses all the areas of your new venture. Even if you're going it alone, creating a detailed business plan will help you determine your monetary needs well ahead of time and reduce the risk of any financial surprises you can't handle later with the money you have available. Your business plan should address the following areas of your startup project:
Detailed product or service description
Marketplace analysis
Target customer overview
Marketing plan
Financial projections
Background of key managers
The U.S. Small Business Administration provides tips and advice for writing a business plan at its website, as well as other information, including information on where to find capital.
Analyze your current credit situation. Most small business loans and credit cards are tied to the individual owner, not the business itself. Get copies of your three credit reports and review them to make sure they contain no inaccurate data that is hurting your credit. Follow the steps at the websites of the report issuers -- Experian, TransUnion and Equifax -- if you need to correct any incorrect information. Look for the reasons your credit score isn't higher and try to address those issues to raise your credit score.
Try crowdfunding. If you have an idea that appeals to and might benefit other people, they might be willing to donate money to help you get started. More and more entrepreneurs are turning to crowdfunding using sites such as Kickstarter or Indigogo. You can ask for straight donations or offer to sell shares in your company, limiting the number of people who can participate so you can keep control of your company. For example, you might offer five people the chance to each own 1 to 5 percent of your business for a $1,000, $2,500 or $5,000 investment. If possible, wait until you have a lead investor to prime the pump so that others looking at your opportunity see that someone else believes in you and has already made a commitment, advises Business News Daily editor Nicole Fallon in her article, "Crowdfunding Challenges Most Startups Don't Expect."
Write a list of the personal assets you have that you can sell and turn into cash. You might find you have enough personal items in your garage, attic, basement and closets to hold a yard sale that raises several thousand dollars. You might have financial instruments you are willing to sell because you feel your business offers a better potential return than the interest these bonds, certificates of deposit or other assets offer. Talk to a tax professional before borrowing from or liquidating retirement assets. You'll face tax penalties and might lose your retirement savings if your business doesn't work. Be aware that even if you have significant equity in your house, if you have bad credit, it can be difficult to get a home equity loan or one at a low interest rate.
Offer part of your company in exchange for startup capital. If you've watched the show "Shark Tank," you know that angel investors can be aggressive, asking for majority ownership in exchange for funding. Don't be cheap with what you offer. Angels aren't looking to make a modest return on what they lend you -- they want a home run. Know your bottom line when you approach this type of investor so you don't look weak or unprofessional by changing your asking price.
Approach trade partners who will benefit from your business. Will your business help another company increase its sales or lower its costs? Will your new company place regular orders for materials, supplies, services or equipment from another business? If so, approach these companies and ask them if they will help you get off the ground. If you succeed, they find a new customer or partner. You might need to agree to purchase from them exclusively or offer them a piece of your business. You will likely have to secure any such loan using your car, home, business equipment or other asset as collateral.
Request to purchase items on credit from potential suppliers and vendors. You might need to offer some collateral on your initial orders, agree to place smaller orders, or offer to pay your invoices within five or 10 days of receipt of your order.
Ask potential customers to sign letters of agreement to buy from you. Include the price they will pay and the amount they'll order. If possible, get signed contracts. This will let you show potential partners or lenders you have business in hand before you even launch.
Review your business idea and decide if you need to launch it as large as you originally conceived. You might be able to start smaller using your initial sales and profits to build the coming the first year or two. For example, instead of opening a retail store, can you sell online? Can you operate on the weekends instead of during the week? Can you offer a smaller product line or fewer services? How about operating locally instead of nationally? You might find you have enough money to start a smaller version of your business and don't need credit.