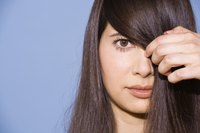 Perhaps you've seen the Instyler Rotating Hot Iron on TV and assumed it was just another infomercial product making wild claims. But if you ever have a chance to use this product, you'll realize that this rotating hot iron actually does work. Thanks to the rotating round hot iron and built in brush it smooths, straightens and polishes your hair -- even if you didn't comb it out first.
Turn on the Instyler iron, and place it so that the flat side is on a flat surface. This way things won't get burned.
Separate a section of your hair to be ironed and pin up the rest of your hair.
Use the Instyler Rotating Hot Iron on the lowest setting possible for your hair. You should only be using the highest setting if you have extremely thick and coarse hair.
Use the round hot side of the Instyler to quickly straighten the roots if necessary. Be careful not to hit your scalp because the Instyler gets hot.
Clamp the whole iron over the section of hair with the brush side on top and the hot round iron underneath. Only hold the Instyler by the handle. Do not try to hold the other side of the iron; there is no place to comfortably hold the iron at the other end without possibly getting burned.
Pull the Instyler through your hair at a medium pace. You shouldn't spend more than five or six seconds pulling the Instyler down your hair strands (about eight seconds for longer hair) because you don't want to burn your hair or cause breakage. Repeat the process for the remaining sections of your hair.
When doing a back section of your hair, be very careful about having the round hot iron near your neck. You may even just want to flip the iron around so that the brush is on underneath and the iron is on top when doing back sections so that you will avoid being burned on the neck.