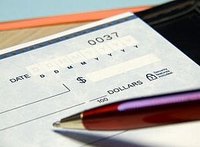 Walmart is a common shopping place for many Americans. Consumers can buy groceries, household goods, get their car fixed, and now even deal with their finances all at one stop. In addition to all of this, Walmart has recently begun offering their customers personal checks with some pretty neat details.
Do not think that you have to order your checks from your bank. Your bank simply offers you some choices of what they sell hoping to get your business. Walmart checks correctly display all of the necessary information and meet bank requirements while letting you personalize your check order.
To add your own personal photos to your check, just go to the Walmart link in the resources section of this article to create your check. Just remember that you have to own the copyright of the image in order for it to be on your checks.
You will need the following information about your bank account to order checks: the date you opened your account, your bank's name and address, the routing and checking number, and a starting check number.
You can rest assured that Walmart's checks are safe, because they include multiple security features like chemically sensitive paper, padlock icon, and a microprint signature line.
Your checks will be shipped to you within 14 days of your order, however, you can also choose from options like Priority Mail or Next Day shipping if you need your checks sooner.