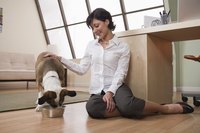 Cooking real food for your dog helps you ensure he is getting food made from high-quality ingredients. While there are many ways to make doggy treats and dog food, there are basic things your dog needs to have in his food. You can play around with amounts and flavors to find a homemade food your dog will enjoy. Remember that dogs are omnivorous, just like humans. This means your homemade dog food will have to contain meat, carbohydrates and vegetables in order for your dog to get the nutrition he needs. Always check with your vet to be sure a homemade diet is right for your dog before changing his diet.
Start with proteins. Proteins can be cooked meats such as turkey, chicken or beef. You can use ground meat or chop it up into chunks. You can also use hard-boiled eggs to add protein to the dog food. Your homemade dog food should be about 1/3 protein for a non-working dog. Increase the protein content slightly for a working dog, puppy or pregnant dog.
Add carbohydrates to your dog food. Carbohydrates add bulk to your dog food, and help provide your dog with energy. Long-grain brown rice, mashed potatoes or cooked pasta are all carbohydrates you can add to your dog food. You can also use oats and beans to add carbs.
Add raw or lightly steamed vegetables to your dog food. You can use any fresh vegetables you have on hand in your dog's food, such as carrots and broccoli. Dogs may also enjoy cauliflower and green beans. Carbohydrates and vegetables together should be about 2/3 of your dog food, so make a mixture of vegetables and grains to go with the protein.
Add some bonemeal tablets or bonemeal powder to your home-cooked dog food. This will help give your dog the calcium she needs. You can also add flaxseed oil to the food to give your dog omega-3 fatty acids in her diet.