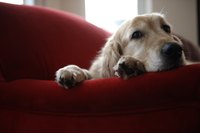 Your dog's separation anxiety can be evidenced in many ways. Your dog may turn in circles when he thinks you're leaving or coming back, or he may bark or whine incessantly. He may lose his housebreaking abilities, become destructive or seem depressed or panicky when you are preparing to leave home. Fortunately, there are some tips to help understand your dog's behavior and help him deal with his separation anxiety.
Take your dog to the vet if she is suffering from bouts of incontinence. She may have a condition such as diabetes or a urinary tract infection that is causing her to lose control of her normal functions. If your vet rules out any physical condition and your dog continues to urinate or defecate in the home in a manner consistent with your absence, your dog may have separation anxiety.
Provide plenty of exercise for your dog. If you can't provide the time or duration of exercise your dog needs, consider hiring a dog walker. Perhaps you have a neighbor with a dog, and you can set up 30-minute play dates for the dogs. Teach your dog to retrieve a ball -- it's a great way to get him good hard exercise and save your energy at the same time. A tired dog is much more likely to accept separation -- in fact, a tired dog may want some time away from you just to snooze.
Help your dog gain some confidence, as dogs with separation anxiety often have low self-confidence. Play games such as fetch with your dog, and let your dog win. Be liberal in praising him, and give him treats. Hold 5-minute obedience lessons in your house and praise and treat even for basic commands, such as "Sit." Attend an organized obedience training class to gain more control over your dog -- neither you or your dog can ever have too much obedience training. Obedience training will also help your dog learn that you are in charge, which can help him relax.
Give your dog a space that is just for her. This can be a room, a crate or even just a blanket. Spend lots of quality time in the area with her -- play with her there, and even feed her there. Make the area very appealing to the dog. Once you think the dog is more comfortable, leave her there for no more than a few minutes at first. If the dog barks or exhibits other separation anxiety symptoms, do not return right then -- you must wait until your dog is calm to return to and treat. If your dog exhibits anxiety symptoms during your brief absence, decrease your time away. Gradually increase the duration of your absence. Eventually, your dog should understand that you will always return. When your dog is comfortable in her space, allow her to remain there. Don't call her to you or otherwise disturb her, and she will learn it is a safe place that is all her own.
Be casual when you are leaving or returning home. You can easily elevate a dog's anxiety level by becoming overly excited yourself. When coming home, just enter the house and do not even address the dog -- it will be hard at first, but ignore him until he has calmed down. Make sure your visitors know the drill as well.
Practice patience. Separation anxiety can be cured but it may take time. Make changes slowly, and make sure your dog is comfortable and is adapting to the changes. Keep your schedule as routine as possible so your dog knows when you are coming back.