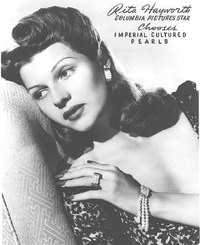 Victory Rolls, a classic 40's hairstyle named for the V shape that your rolls create. This look is flattering on almost any face shape. It is easy enough for your everyday retro pin-up girl, and glam enough for the next sock hop.
Things You'll Need
First, part your hair from ear to ear, and put the hair in the back in a pony tail.
Part the loose hair down the middle. You can make a part straight down the middle, or slightly to the side for a different look. Pin half of your hair down.

Whatever you call it, backcombing, ratting or teasing...do that to the loos hair, and then comb the front layer over the teased hair, and smooth it with a product.
Wind the hair around your fingers a couple of times and form a loop. Slip your fingers out, and tuck the ends of the hair inside the loop. Hold the hair secure while you roll inwards towards your head.
Once you reach your head, spread the loop out to achieve the "roll" shape. Pin so that the rolls are secure, and DO NOT appear hollow.

You should now have one roll. Repeat on the other side.
Take your curling iron, and curl the back of your hair. Make sure you let the curles cool before touching them. Comb them with your fingers, spray and go.