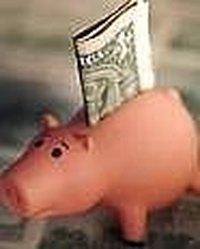 Our economy is in trouble and more people are losing their jobs daily. Even those who are working must save for the unexpected and keep costs down. It is possible to live a frugal lifestyle and have a few luxuries with a bit of planning. Gas prices keep going up and everything costs more today. Making frugal living a habit takes time but is well worth the effort.
Things You'll Need
Internet connection
Tablet for notes
Pen or pencil
Dry cleaning kit
Weekly sale papers
Set aside some time to take a really good look at the way you spend your money. Look for hidden expenses that might not ordinarily be noticed. The high cost of gas makes it important to keep costs in line by using less. It is also important to think of the environment. Small changes can give back a big payoff!
Commute If you make a long commute to work, consider using public transportation such as park and ride busses, and or, metro rail. Now, I know that some of you are drawing back in horror at the very thought! I had the same thought the first time I considered riding the bus. Surprise...surprise! I loved it If you take the same bus every day you will find the same people riding with you and you will soon have bus friends. It is easy to become accustomed to ignoring the traffic and disembark right in front of, or close to your building.
Errands
A well planned route will save time as well as gas; which translates into saved money for you! Plan your stops so that you make a circle. Don't dart all over the place! Work your way out from stop to stop and then start the journey home in the same manner. You will end up at home without making an extra trip. Plan your grocery shopping for the last stop. Shop close to home so you will not leave cold items out of the refrigerator or freezer too long.
Dry Cleaning Savings
I discovered that by purchasing a dry cleaning kit I could dry clean most of my clothing in the dryer and save a lot of money! Use the cleaning fluid to spot clean your clothing and place in the plastic bag designed for dry cleaning clothes with the dry cleaning cloth and throw in the dryer. Hang up clothing and do not let them wrinkle by staying in the dryer. Sometimes I throw a few pieces or a garment into the dryer with a one of those cloths used to keep clothing soft. This will freshen a garment that is not really dirty and give you more wear out of it between cleanings.
Online Shopping
Online window shopping is the way to go. You can find and price items you need before you go to the store. Many stores have online shopping with ship to store service, or in store pick up of items ordered online. This is a great way to manage your time and save money at the same time.
Online shopping can be hazardous, but you must shop reputable stores, or internet stores such as Amazon.com. I have successfully purchased many times from JCPenney , Dillards, Macy's , Horchow, Saks Fifth Avenue, Walmart, and others. Amazon.com has a wonderful savings program. Certain of their items priced over $25.00 come with free shipping. Great opportunity! Overstock.com usually ships everything for $2.99. Today (February 16,2009) is the last day of their current shipping promotion that is site wide....everything ships for $1.00. Another great deal! Check out each store's shipping policy before you buy!
Shopping Helps
Make a list. I know this is really basic, but if you make a list and stick to it you will not be so tempted by impulse buying. Your will be saving money reinforcing your new frugal habit.
Stock up on sale items. Kroger's regularly runs 10 items for $10.00. Sometimes you can mix and match the items getting you 10 separate items for $10.00. You can use this promotion in combination with your coupon shopping and really save big!
Shopping at membership stores such as Sam's Club can be a real money saver. However, you must know your retail store pricing to be successful. You can not buy small quantities. However, this is the best place to shop when you are planning a large gathering or during the holidays! They have nice gift items as well.
Living frugal can be learned. Making frugal living a habit takes time but it will pay off in the end. Once you have formed these habits they will last a life time. Live frugally!