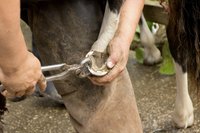 Equine hoof abscesses occur quickly and are painful requiring immediate veterinarian attention. A hoof abscess occurs when a foreign object embeds in the sole of the hoof and carries bacteria with it leading to a painful infection. Horses limp in an effort to try not to apply pressure on the affected hoof. The hoof and sole may be hot to the touch and your horse's leg may swell from the infection. Bacteria also can enter the hoof if it has not received proper routine care by a farrier.
Veterinary Exam
Your veterinarian will clean the affected hoof and sole on your horse and perform a lameness exam to rule out other injuries to your horse. Your vet likely will use a hoof tester to pinch hoof parts to identify the injury site.
Foreign Object Removal
Your veterinarian likely will remove any foreign object that has punctured the sole -- the soft area underneath the hoof -- at the same angle as it entered the flesh. Removal by someone other than a veterinary professional is not advisable, as it can cause more injury, pain and lameness if it is not done correctly.
Draining and Treatment
Draining the infection from an abscess typically is done under local nerve blocks or with analgesics from your veterinarian. If the area cannot be identified by the naked eye, your vet likely will radiograph the hoof to determine the drainage area. After the drain hole is made, your horse should feel pain relief. Your vet likely will receive an antiseptic dressing pad and a waterproof bandage. Your equine friend also may receive medications for pain and swelling if your vet determines them necessary. Once the wound is drained, the drain hole is healed, and dry, your horse should be on his way back to normalcy.
Hoof Abscess Prevention
You can prevent painful hoof abscesses by keeping stalls and paddocks free of sharp objects such as glass, nails or screws. Remove soiled bedding and manure from a stall daily and from the paddock on a regular basis. Provide dry areas during wet weather with additional stall bedding or a thick layer of hay in a pasture to keep hooves from softening and allowing bacteria into the hoof walls. Very dry conditions lead to brittle hooves that crack and allow bacteria in. Have your farrier trim hooves regularly to correct long hooves and crushed heels. Follow directions for hoof dressings or hardeners to protect hooves from excess moisture.