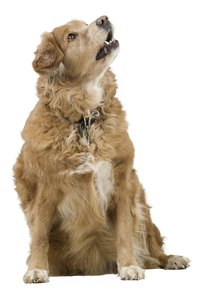 A loving dog with a great temperament can provide a lot of happiness and comfort to folks in hospitals and schools. As a therapy dog, a family pet can play an important role in recovery or learning programs. Breed and size don't matter, just a happy canine, certification to be a therapy dog and a place to go.
Contact a local dog club or the American Kennel Club. They will provide the information for your dog's participation in the Canine Good Citizen Program. To earn a certificate, dogs must pass 10 individual tests given by an AKC evaluator. In addition to knowing some basic obedience commands, therapy dog requirements involve testing the dog's reaction to being approached and touched by strangers and walking in a crowded environment.
Find a national group for further certification and evaluation. Some, like the Foundation for Pet Provided Therapy and Therapy Dogs International, have local chapters. Membership in these groups is beneficial for both the dog handler and the community. Some schedule therapy dog visits for you and your pet and open up participation in community events like parades and health fairs.
Check online for local organizations listed by state. They are often staffed by volunteers and have their own policies. Some offer free training workshops, skills practice and educational opportunities that will strengthen the bond between you and your therapy dog.
Become familiar with the rewarding opportunities that are opening up for you. In a hospital setting, a therapy dog can provide love and comfort to disabled children and adults, Alzheimer's patients and hospice patients. They have also helped autistic individuals and emotionally-abused children. A therapy dog can help children in other ways. Some schools and libraries offer reading programs where children who read to therapy dogs progress faster. Therapy dogs also assist in both pre- and post-surgical play therapies to help children recover quicker.