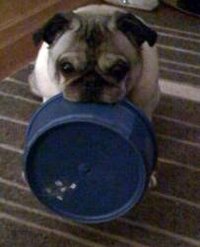 Anyone whose ever been around a pug knows that they are itchy, sneezing little dogs. However, they don't need to be. With a proper diet, many of their allergies, itches and other health conditions will clear up naturally. By making your own dog food, you are serving your pug the most nutritional meal possible.
Things You'll Need
Brown rice
Carrots
Broccoli or other green vegetables
Lean meat
Tamari sauce
Cheddar cheese
Sunflower oil
Shallow baking dish
Bone meal
Potato flour
Oats
Kashi
Dry milk
Choose only human-grade ingredients. If you won't eat it, then you shouldn't be feeding it to your pug. Look for natural, fresh ingredients to serve your pug. While you don't have to use organic meat and produce, these products do have less chemicals, which is healthier for your pet.
Feed your pug meat. When people start making their pet's food at home, they often forget that their dog is a carnivore at heart. A pug's daily diet should contain about 50 percent meat. Since pugs tend to pack on the pounds, choose low-fat meats. Frozen ground turkey is an easy and affordable way to add protein to your dog's diet. Cook the meat with small amounts of olive oil before serving it to your dog.
Add vegetables to your pug's diet. Shredded, mashed and cooked veggies are the easiest to digest, but raw vegetables are acceptable if you dog digests them. Broccoli, green beans and carrots offer great nutritional value without adding calories.
Serve cooked brown rice as a healthy carbohydrate. Try mixing brown rice, vegetables and meat for a simple meal.
Pay attention to your dog's reaction to certain foods. Pugs tend to be very susceptible to food allergies. Corn, soy and wheat are the most common allergens. Anything that makes your pug itch, should be avoided in food.
Keep it simple during preparation. The time involved in a homemade diet for you pug can be a downfall if you don't keep your ingredients and preparation simple. It's quicker to shred vegetables rather than cooking them and some food, like rice, can be made in advance. You can also make homemade kibble for one of the day's meals and cook fresh food for the other. The easier you make things for yourself, the more likely you are to stick it out for the long haul.
Balance the right amount of protein, vegetables and grains for a healthy pug. Consider adding a multi-vitamin or supplement to ensure your pug is getting all the vitamins and minerals it needs.
Mix together about 6 cups of rolled oats or potato flour, 3 cups of cooked brown rice and 2 cups of dry milk. Avoid white flour. You may also substitute Kashi for the rice.
In a separate bowl, mix 1 cup of sunflower oil with 3 cups of water. For a meatier flavor, substitute gravy or broth for the water.
Fold the liquid ingredients into the flour mixture.
Add flavorful additions like 2 cups of grated cheddar cheese or 2 tbsp. of tamari soy sauce (or both if you want to add extra flavor for your pug). You can also add 1 to 2 tsp. of bone meal at this time, which offers a bit extra protein. Shredded carrots can also add a bit of color.
Combine the ingredients thoroughly. If the mixture is too dry, add small amounts of water until the consistency is thick but only slightly moist.
Spread the mixture in a shallow greased baking dish. A deeper pan will require extra cooking time. You may need to do several batches so as to not make the mixture too thick.
Bake the kibble batter for 35 minutes in a pre-heated 175 degree oven. The mixture should pull away from the sides of the pan, be hard to the touch and light-brown in color.
Remove the kibble from the oven and let it cool thoroughly. After the kibble is cool, break the mixture apart into small chunks.
Store the kibble in an air-tight container.