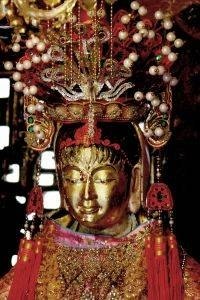 Many people are seeking innovative and nature-friendly ways to get clear skin. One of those ways to avoid putting extra chemicals onto your skin and possibly creating more breakouts is to use a variety of Indian remedies. These remedies are environmentally friendly, fairly easy to obtain and provide excellent nutrients for your skin's health in addition to helping clear up any acne or other skin problems.
Things You'll Need
Rose water
Sandalwood paste
Tumeric powder
Tea tree or camphor oil (optional)
Create a paste using sandalwood powder and mix in an equal amount of Tumeric. You want the paste to be fresh, so mix it only in small batches. About 1 teaspoon of each should be plenty.
Add a teaspoon of water to the powdered elements, gently mixing it to form a thick paste. If it appears too watery, add small amounts of Tumeric and sandalwood powder to thicken. If the paste is too thick, add more water one drop at a time to achieve the proper consistency.
Add a drop of camphor or tea tree oil to the paste if you desire the mask to have a cooling effect on the skin. If you have allergies to either of these oils, do not add them to the mixture, and stick to the sandalwood and Tumeric blend.
Using a clean, dry popsicle stick, or the tip of your finger, apply the paste to the problem areas of your face. This treatment is best used for pimples that tend to pop up in specific places rather than using it for an all-over treatment mask.
Create a full anti-acne mask using Indian techniques by mixing sandalwood powder with rosewater. Use about 2 teaspoons of sandalwood and enough rosewater to make it spreadable.
Mix the powder and rosewater well, then apply it to the entire face. Leave mask on the face for 20 to 30 minutes before washing it off with lukewarm water. The mask will leave your face well-nourished and eventually help rid the skin of the bacteria that causes acne.