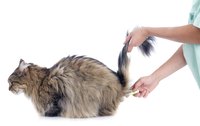 Treatment for a cat's fever varies based on the underlying cause. A common treatment for fever is antibiotics and fluids. If you suspect your cat has a fever, consult a veterinarian. Do not give fever-reducing medications such as aspirin and Tylenol, because they are highly toxic to cats.
Fever Symptoms
In addition to a high body temperature, a cat with fever may display muscle weakness, rapid heart and respiratory rate, shaking, lack of appetite and lack of grooming. She may become dehydrated because of the high temperature and the decreased drinking. Other symptoms may be present, depending on the cause of the fever.
Taking a Cat's Temperature
Taking a cat's temperature is the only way to know whether she has a fever. Use a pediatric rectal thermometer to take your cat's temperature. Coat the thermometer with petroleum jelly and insert it gently into your cat's rectum.
A cat's normal body temperature ranges between 100.5 and 102.5 degrees Fahrenheit. A fever is classified as a temperature greater than 103.5 degrees. If your cat's temperature is greater than 106 degrees Fahrenheit, immediate medical attention is necessary. If the temperature does not come down, your cat may develop swelling around the brain, blood clotting disorders and bone marrow suppression.
Diagnosing the Cause of Fever
Fever is often a response to a bacterial or viral infection. Other potential causes of fever include tumors, systemic fungal infections, toxins and some immune conditions such as lupus.
Your vet will perform a complete physical examination to look for signs of injury, such as cuts or bite wounds that may be infected. Vets may also order blood work to test for viral infections such as feline leukemia virus and feline immunodeficiency virus, and to look for other signs of illness. Diagnostic imaging may be necessary to check for tumors.
Treatment Options
Your veterinarian will determine an appropriate treatment based on the fever's cause. In the case of a bacterial infection, antibiotics may be in order. If a tumor is the cause of the infection, surgery may be necessary to remove it. In rare cases, your vet may attempt to reduce the fever by administering one of the few nonsteroidal anti-inflammatory drugs that are not toxic to cats.
If your cat is severely dehydrated, your veterinarian may administer fluids to help support her recovery. Keep your cat in a warm, dry place in the house, and give her access to plenty of food and water.