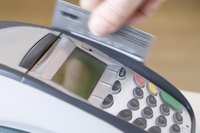 Any merchant can accept credit cards at a craft show with just a smartphone or tablet combined with a card reader and the accompanying software. This capability can increase business from buyers who want your items but don't have the necessary cash. However, accepting credit cards comes at a cost and reduces the amount of money you make per sale.
Convenient Payment
Portable card readers are designed to use electronics you likely carry anyway. The Square reader, for example, plugs into the headphone jack of a smartphone or tablet. Other readers plug into the charging dock of your mobile devices. Some methods don't require a card reader at all. For example, PayPal Here allows merchants to accept payments via credit cards by having customers check in to your merchant site and instantly transfer the funds.
Merchant Accounts
A business that wants to accept credit cards has to set up a merchant account with a bank or member service provider that handles merchant services and processes the transactions. This allows the credit card payments to be transferred to your bank account. Start-up costs range from $50 to $200, and there are monthly statement fees and transaction-based costs as well.