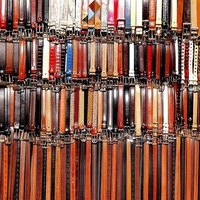 Belts that are too loose require resizing, not recycling. It's simple and cheap to make new holes in a belt, and there's no trip to the shoemaker necessary. Follow this guide for quick instructions on punching holes in a leather belt.
Things You'll Need
Measuring tape or ruler
Pen or tailor's chalk
Leather punch tool
Awl or scissors (for thicker leathers)
Put the belt on, wrong side out. Tighten it to its optimal level and use your pen or chalk to mark the new stopping point.
Lay the belt down on a flat surface, wrong side up. Measure how far apart the pre-cut belt holes are in order to place the new belt holes correctly. For the sake of aesthetics, you should put in holes up to the point of the desired closure point. If the new spot isn't exactly on a measured place, create a hole slightly beyond that point.
After checking the dots one more time for accuracy, place the belt in the leather punch tool. Lining up the cutting point and the hole, clamp down on the tool as hard as possible to punch the hole. It may be necessary to open and close the tool several times to cut through thicker leathers.
After cutting the holes, brush off the excess leather and try the belt on for size. Make certain that the holes are large enough that the buckle prong can fit through completely.