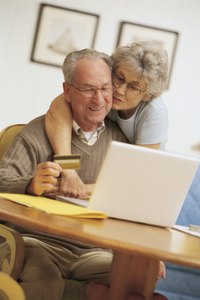 U.S. government bonds and Treasury notes are considered among the safest investments, because they are backed by the federal government. At the same time, that safety tends to keep interest rates low. These investments can be easily purchased online.
Visit the TreasuryDirect website to open an account. Here you will enter your personal information, including your Social Security number, and you will choose a password. You will need a bank account that TreasuryDirect can debit for the purchase. Your interest can also go directly into this account.
Wait until you receive a card in the mail. TreasuryDirect estimates it will take about 14 days. This card will provide you with all the information you need to manage your account, but you can't use the account to purchase investments until you have the card.
Choose the investment you would like to purchase. Treasury notes, also called T-Notes, earn a fixed rate of interest every six months until maturity. T-Notes are issued in two, three, five, seven and 10 year terms. The minimum purchase is $100.
United States Treasury or government bonds pay a fixed interest rate every six months until they mature. They are issued in 30 year terms. There is a minimum purchase of $100.
Initiate the purchase of the goverment bonds or Treasury notes through your TreasuryDirect account. You should be able to see the transaction on your bank statement and in your TreasuryDirect account.