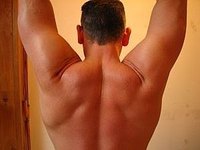 Acne on back and shoulders is primarily caused by clogged pores, which is a result of the oil generated by the sebaceous glands and bacteria. It can take several forms, including pimples, blackheads, and cysts under the skin. Luckily, there are a number of effective acne solutions that can be used to treat acne on back and shoulders.
Things You'll Need
Antibacterial cleanser
Benzoyl peroxide cream
Alpha hydrox lotion (optional)
Sugar scrub
Wash the affected areas with an antibacterial cleanser that has been formulated for use on the face. Cetaphil is a good brand to use, however any antibacterial formula will work. Avoid regular soaps which can aggravate acne on back and shoulders. Let the skin air-dry.

Apply a generous amount of benzoyl peroxide cream to the affected areas. Neutrogena's On-the-Spot Acne Treatment works perfectly with a peroxide content of 2.5%. Do not rub into the skin, but gently smooth over the acne and allow the skin to absorb the cream. Wait for the skin to dry completely.

Apply an alpha hydrox lotion to the affected area and massage into the skin. This step is optional, although many experts maintain that an alpha hydroxy treatment combined with a benzoyl peroxide treatment will provide maximum results.

Use a sugar scrub in the shower at least once per week to treat acne on back and shoulders. Sugar scrubs are milder than salt scrubs. They exfoliate the skin and help remove dead skin cells that can build up and clog pores.