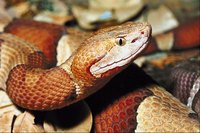 Of the 23 types of snakes in the Great Smoky Mountains, only two are poisonous: the copperhead and the timber rattlesnake. Being able to identify them can help a doctor treat a bite and limit tissue damage.
Look at the location of the snake. Timber rattlesnakes prefer rocky outcrops and hillsides, while copperheads like crevices of rocks along stream banks.
Consider the size. The timber rattlesnake typically is around 3 feet long and heavy, while the copperhead is considerably smaller.
Look at the color. The rattler generally is brown, though it can range from orange to almost black, with dark patches on its back. A copperhead, as its name suggests, has a copper tone.
Look at patterns. Copperheads have a distinctive, alternating color banding pattern. Rattlers have a diamond color that can differ slightly from snake to snake and is not as pronounced as might be expected in other rattlers.
Watch and listen. A rattlesnake is more aggressive and will make the distinctive rattling or buzzing-like sound if threatened, while a copperhead will not make noise and is much more timid around people.