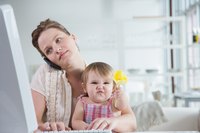 Women who have taken time off from work to raise families, or who have been laid off from their jobs, can find productive work at home. Thanks primarily to the Internet, stay-at-home housewives can combine childcare and household responsibilities with home-based work, earning income and often continuing their careers from home.
Assess Your Skills
Whether you have left a successful career or have never worked outside the home, start by evaluating your skills and assessing how they can translate into home based work. If you are good with numbers, search for such jobs as accounting, data entry, bookkeeping or medical billing and transcription. If you are a writer, editor or proofreader, look for sites seeking freelancers who work from home in those fields. Other at-home job areas include customer service and typing.
Use a Database
Search the Internet for home-based job databases. Such sites as Homeworkers offer lists of telecommuting jobs including virtual assistant, web developer, translator and customer service with major companies.
WorkatHomeDesk provides a variety of home opportunities with job descriptions for some of them. Virtual assistant, for instance, is a work-at-home home field for those with some office experience in secretarial duties. The job also requires a home computer with high-speed Internet access, a printer and fax machine, and email. Another home-based field is virtual call center jobs in which the center directs a call to the client's home phone.
Join an Online Workplace
Put your professional skills to good use by joining an online workplace such as oDesk or Elance. Sought-after skills include marketing, administrative and creative abilities. These online companies match employers to contractors by allowing people with the appropriate skills, education and experience to apply for suitable client projects.
Become an Entrepreneur
Housewives who are talented at such crafts as jewelry, artwork and clothing can start their own businesses by selling their wares on Etsy or eBay. Those who enjoy selling can try direct sales and at-home selling parties. Showmomthemoney suggests such online occupations as Internet auctions, home travel agent, virtual assistant, and typing and transcription. Build your own website to sell your products and offer your services.
Beware of Scams
Seldom was the warning "If it looks too good to be true, it probably is" more appropriate than for work-at-home scams. Never sign up for a job that requires a payment in advance. Beware of promises of high pay for simple work.