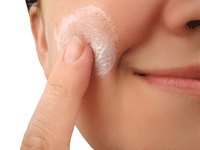 There are many methods of fading acne scars and discoloration, including laser treatments, bleaching creams and microdermabrasion procedures. However, you may be skeptical about relying on expensive laser treatments or products full of chemicals, and may prefer to try a natural treatment for fading acne scars. There are several home remedies that yield similar results to the pricier procedures.
Things You'll Need
Olive oil
Rosehip seed oil
Vitamin E oil
Cut a lemon into equal halves.

Squeeze the lemon juice into a medium-sized bowl.
Pour a cup of water into the bowl and mix it with the lemon.
Soak a washcloth in the lemon-water mixture. Wring out the excess back into the bowl.
Press the washcloth against acne-scarred skin and leave it on for a few minutes every day.
Purchase 100 percent olive, vitamin E and rosehip seed oil from your local organic-foods store or apothecary.

Cleanse your skin with a mild soap to remove dirt, oil and makeup.
Rub olive oil into the acne scars four or five times daily. Olive oil has regenerative properties that help fade acne scars.
Rub vitamin E oil into acne scars at least once a day. Known for its moisturizing properties, vitamin E is recommended by dermatologists for fading acne scars.
Rub rosehip seed oil into your acne scars at least twice daily. Rosehip seed oil is known for its restorative properties, and will gradually fade acne scars with regular use.