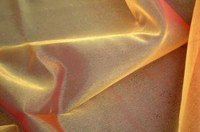 Silk is one of the more delicate fabrics. Getting your silk clothes dry cleaned can become expensive. You may not think that you can clean your silk dresses at home, but you can. With a few precautions and a few rules, your silk dress will sparkle like brand new.
Things You'll Need
Dress Label
Ivory
Vinegar
Locate the label inside the dress. Read the tag to make sure that the dress can be washed. If it can't, it will say.
Fill your bathtub about a quarter of the way up with lukewarm water. Make sure the bathtub is clean first. While the water is running add a little bit of ivory soap.
Swirl your dress in the bath water. Don't leave your dress in the water longer than five minutes.
Drain the bathtub and fill it back up to the same level adding a half a cup of vinegar to the water. This will rinse out the soap and keep the color of the silk intact.
Take the dress out of the bathtub and lay it on a towel. Roll the dress up in the towel to squeeze the water out of it. Do not ring out the silk dress or place it in the dryer.
Set your dress on a hanger and hang near a heater. Do not put your dress in the sun to dry or it will fade the color.