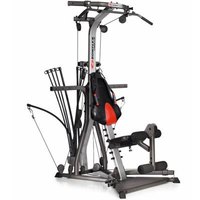 Bowflex equipment is a popular brand for the home. The design allows you to get a full body workout with just one machine. This can save both space and money which is important if you do not have lot of space in your home for a gym. The Bowflex Extreme 2 SE is just one of the many models available. You can use this machine for a total body workout. However, there are also some great exercises you can do to help shape, tone and strengthen the legs. The following five exercises can be done on the Bowflex Extreme 2 SE to give you a well rounded lower body workout.
Tips & Warnings
Always start slowly and listen to your body to determine the appropriate level of exercise.
Never lock any of you joints when exercising. Always move slowly and with control whenever using resistance with exercises. Stop any exercise that causes joint pain.
Photo Credit http://www.bowflexhomegyms.com/bowflex_home_gyms/productsoverview/powerrodhomegyms/accessories/machinemats/prdcdovr~100070/Bowflex+Xtreme+2+SE+Home+Gym.jsp
Promoted By Zergnet