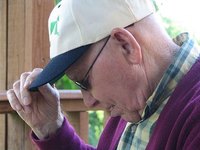 To prevent arthritis, there are some lifestyle changes you can make and some new habits you can develop. Read on to learn several specific arthritis prevention tips.
When you exercise, if you want to prevent arthritis, you will want to increase your general awareness of your joints, and work hard not to strain them excessively. The better you care for your joints during youth, young adulthood and middle age, the better off they will be when you get older.
To prevent arthritis, it helps not to be sedentary. A sedentary lifestyle can lead to many well publicized health problems, including obesity and heart disease. But it can also lead to the development of arthritis. After all, joints need to move in order to stay healthy and not get "rusty," so to prevent arthritis, it helps to remain active throughout every stage of your life.
Try to reduce the amount of hard physical labor you do, as continuous physical labor can be a factor in the development of arthritis symptoms.
When it comes to arthritis prevention, Yoga is probably the best known form of exercise for strengthening joints and helping you to maintain flexibility over the course of your entire lifetime. But you will also want to incorporate some light resistance training into your exercise routine to prevent arthritis, as this is yet another type of exercise that helps strengthen both your bones and your joints. Cardio exercise (running, biking, swimming, etc.) is also helpful, but be aware of how your joints are feeling, and try to steer clear of overly high impact exercise (like high impact aerobics classes) as these can be too hard on your joints and contribute to the development of arthritis in some individuals.
Make an effort to stay within the normal body weight range for your height and age to prevent arthritis, as carrying excess weight on your frame can be an additional contributing factor in the development of arthritis, and make sure you are staying hydrated and eating nutritiously and supplementing with vitamins and minerals as necessary.