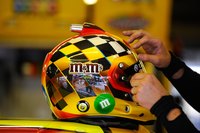 M&Ms are fun, colorful and delicious candy. Now they are even better than ever. M&Ms have been available with a personalized message for quite some time now. New personalization includes having your favorite photo printed on those tiny candies.
Things You'll Need
Internet access
Digital photo(s) you want used
Visit the website mymms.com/photo24.
Choose up to three colors by clicking on boxes below your favorite colors. Although you can order special, darker colors, you can't have them printed on, as the dark ink will not show up properly.
Choose to personalize with photos and/or messages. If you are using only photos you can upload one or two photos to be printed on your M&Ms. If you are using only messages you can create up to four messages. Remember that each message can be two lines and up to eight characters in each line. They have a wonderful selection of creative ideas right on their website to get you started.
If you want both photos and messages on those colorful candies, you can choose up to two photos and up to two messages. You get to choose the font to be used as well. Arial, comic sans and brush script are available as options.
Check out the current "special offers" page to get the best price on your order.
Fill out the billing and shipping information.