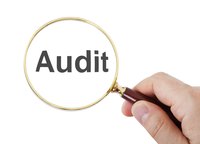 According to tax experts, the Internal Revenue Service tends to audit income tax returns that contain mistakes, reflect certain kinds of deductions or appear to omit sources of income. While it's possible to reduce your chance of an audit by being scrupulous in preparing your return, there may be little you can do to prevent an audit triggered by your home business deductions or charitable donations. If you do have a home business or give a lot to charity, be sure to document these activities so that you are prepared to defend yourself to the IRS.
Double Check Your Return
Review your tax return and all supporting documentation before sending it to the IRS. Unintentional errors, such as making a mistake in your math, adding an extra zero to a number or failing to include a form can result in an audit. If you have concerns about the accuracy or completeness of your tax return, ask a tax professional to review your work. If possible, use tax preparation software or an online tax preparation service to prepare your return. Nolo.com notes that a computer-prepared return looks more professional and is easier to read than a handwritten one, which could reduce your risk of an audit. In addition to preparing a neater tax return, tax preparation programs often check your work for you, reducing audit-triggering errors.
Choose a Qualified Tax Preparer
Incompetent or unethical tax preparers trigger audits by making mistakes, claiming inappropriate deductions or failing to report all of a client's taxable income. If the IRS audits your return and discovers problems, you are responsible for paying interest and penalties even though the preparer made the mistake. The IRS recommends being wary of tax preparers who charge a fee based on your refund amount or who boast of being able to get you a large refund. Check the credentials and background of anyone you hire to do your taxes. Things to ask about include education, training and professional licensing. The IRS recommends asking the tax preparer if he is affiliated with a professional organization that provides ongoing education and requires its members to adhere to a code of ethics.
Report All Sources of Income
Many people forget to report all their income when filing their taxes. This can trigger an audit and result in significant penalties. The IRS requires you to report all sources of taxable income, including rental income, interest income, unemployment compensation and income from freelance work.
Be Careful With Self-Employment and Charitable Deductions
Deductions for qualified self-employment expenses, such as a home office, often come under scrutiny by IRS agents and may trigger an audit. If you have your own business, review the rules governing self-employment and home business deductions carefully. If you aren't sure about whether you qualify for a deduction, talk to a tax professional before completing your taxes. The IRS also pays close attention to charitable deductions. If it seems that your charitable donations are out of proportion to your income, the IRS may initiate an audit.