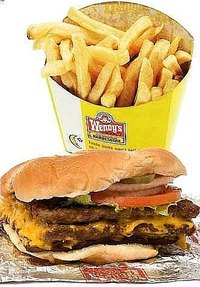 Fast food addiction is a controversial subject. Some researchers believe that the fats and salts in fast food release the same pleasure chemicals in the brain as heroin does. Others believe that fast food is not addictive, and that the overeating thereof is a psychological problem. Either way, I know from experience that the cravings for fast food can feel exactly like an addiction. In this article I outline the steps I took to overcome my unhealthy cravings.
Make a decision to eat healthier. Write down your decisions and list the reasons why you don't want to eat fast food anymore. Maybe it costs too much money; maybe it makes you feel sluggish; and of course, it makes you gain weight and puts you at risk for heart disease. Set a goal for yourself to cut back on your consumption of fast food. Then, follow the next steps to put your plan into action.
Go through last month's bank statement and add up all the money you spent on fast food. This will give you an idea of how much you really eat. When I did this step, I found that I was spending A LOT more on fast food in one month than I would spend if I bought a month's worth of food at the grocery store. This started putting things into perspective for me. Make a goal to spend less and less money each month on fast food. Even if your goal isn't to save money, you'll naturally eat less fast food if you're spending less. (And eating off the dollar menu doesn't count.)
Educate yourself. Go to Google and query the nutritional information of your favorite fast food items and restaurants. Take note of how much fat, sodium, sugar, and calories these items have. Keep in mind that 3,500 calories is equal to one pound of body fat. Could all those calories in your fast food add up to 3,500 per week? If you're gaining weight (or having trouble losing weight), this is probably why. You have to know what you're putting into your body. I used to eat Chipotle burritos because I thought they were less fattening than hamburgers. Turns out they actually have almost 1,000 calories!
Disgust yourself a little bit. Go to Google again, go to the Images tab, and query "disgusting fast food." This may gross you out, but seeing close-ups of the grease and gristle may just be enough to change your mind about your favorite foods. This will only work if you have truly made up your mind to eat healthier (from step 1.) The greasy pictures should make you sick, not hungry. By doing this, you're preparing yourself for the next step: adopting a new mentality.
Like I mentioned in my introduction, fast food addiction is believed to be a psychological problem. You have to learn to think differently to overcome cravings. Whenever I felt like heading to the drive-thru, I would say this phrase to myself: "I don't eat like that." Adopt the mentality that fast food is like eating roadkill. You don't eat that way anymore. You and your body deserve better. If you find yourself in a fast food restaurant, look at the people around you. Notice their weight, notice how they're dressed. Look at the employees. Do you really want to be like them?
Your final step in eating healthier is to learn to (and make time to) cook at home. Don't worry about cooking extremely healthy right at first. Cook what you want- the point of this practice is to get you used to eating at home again. Later, you can start choosing low fat and low salt foods. Take notice of how you're feeling when you're putting healthier foods into your body. Pay attention to those good feelings so that you'll crave those pleasures instead of your local Wendy's!