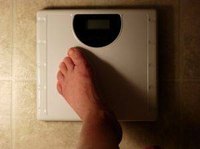 Pro Performance Weight Gainer 1850 is a nutritional supplement manufactured and sold by GNC that aims to help users gain weight quickly. It is very high in calories and each serving contains 74 grams of protein and 354 grams of carbohydrate when mixed with 2% reduced fat milk. As its name suggests, Weight Gainer 1850 provides 1,850 calories per serving. It is very easy to use and comes in three flavors: french vanilla, dutch chocolate and strawberry-banana.
Things You'll Need
Unscrew the lid of the Weight Gainer 1850 and peel back the foil safety seal.
Assemble your blender and plug it into a nearby kitchen outlet. Remove the lid from the blender.
Pour three cups of Weight Gainer 1850 into a measuring cup and pour the powder into your blender.
Add 24 fluid ounces of 2% reduced fat milk to the blender and replace the lid on top of your blender. Blend the mixture at a medium speed until all the powder is dissolved. If you prefer a thicker drink, add six to 10 ice cubes into the blender and blend the mixture at a high speed until the ice is incorporated.
Pour the mixture into a large glass and drink. You can use Weight Gainer 1850 two to three times per day, but limit your use to once per day when you first start using this product and gradually add more servings if you need it.
Store your opened container of Pro Performance Weight Gainer 1850 in a cool place to ensure freshness. You can expect to get approximately five servings out of each 4.3 pound container.