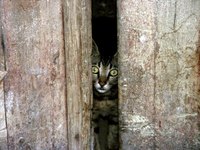 If the vet recommended a monthly flea preventive for your cat, you may have chosen Frontline Plus. Administering the topical is fairly easy, however, be sure you have weighed your cat and have the proper dosage for her size. As well, if she's still a baby, she shouldn't have this medicine until she's 8 weeks old. Otherwise, carve out about two minutes in your schedule to get this monthly task taken care of.
Open and Apply
Applying Frontline Plus is fairly straightforward. Remove the applicator from the package. Set the applicator aside in a safe place and locate your cat. After you've wrangled your kitty and have her in a still position, part her hair between her shoulder blades. Snap off the tip and squeeze the entire contents of the applicator directly onto her skin. Avoid getting it on top of her fur or anyplace she may be able to lick the medication. Though it won't harm her, she won't like the taste, which likely will make her salivate excessively. Allow the spot to dry before you touch her coat.
Getting Right to Work
It doesn't take long for Frontline Plus to get to work. According to its website, the topical starts killing fleas four hours after application. Fipronil is the ingredient responsible for that fast action, killing adult fleas and ticks. The second ingredient, (S)-methoprene, kills flea eggs and larvae. The ingredients team up to get to the heart of the flea's life cycle, staying one step ahead of the parasites that would otherwise breed on your cat.