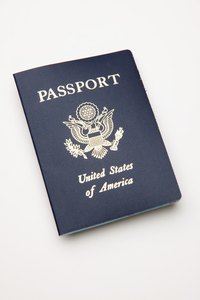 Retail stores and the post office charge up to $8 each for passport photos. You can cut that cost to less than a dollar by taking the photo yourself and printing it on quality photo paper. You'll be able to print out six 2-by-2-inch passport photos easily using your computer printer.
Things You'll Need
Digital camera with 2-megapixal resolution or above
Photo-editing program
Pay attention to the State Department's passport photo requirements. As of July 2011, photos must meet the following guidelines: color full-face frontal view, 2 by 2 inches in size, and taken within the past six months. Wear normal street attire, don't wear a hat or headgear that obscures the hairline, have a normal facial expression and don't wear nonprescription dark glasses.
Use your digital camera to take a picture following the requirements in Step 1. Take the photo at a distance of four feet, with the subject at eye level. Use a white or off-white background. Make sure there is adequate space around the subject's head.
Transfer the photo to your computer and open a photo-editing program. Call up the picture. Select the file type as ".jpg" or ".bmp."
Crop and edit your photo so that the head size (distance from chin to the top of head) is between 1 inch and 1 3/8 inches. Choose a resolution of 1,200 by 1,200 dots per inch, or dpi, and a size of 2 inches by 2 inches. Save the image.
Copy and paste the image five times to create six identical 2-by-2-inch images on the same page, in a space of 6 inches by 4 inches.
Print your own passport photo through your home photo printer on quality paper. You can also save the images on a USB drive and have it printed at a retail store.