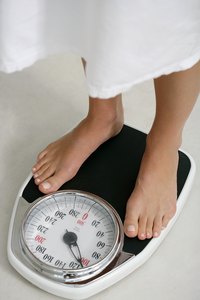 Most everyone already knows that the trick to losing weight is a combination of diet and exercise. If you are lazy, that leaves you with only one choice: diet. When counting calories and attending meetings is too much work, there are some easy ways for the lazy person to lose weight.
The most important step is to drink lots of water. Water will fill you up for zero calories. Don't drink any soda, even diet soda, because it will want other sweet things.
Drink 24 ounces per day of low-fat milk. That is equal to about two big glasses. Consider drinking one with breakfast and one with dinner.
When you go out to eat, divide your food in half. Only eat half, and take the other half home for dinner the next night -- bonus points for the lazy dieter, because you won't have to make dinner.
Fill half your plate with vegetables, one-fourth with meat, and one-fourth with starch. Consider having one or two meals per week of only vegetables.
Remember "out of sight, out of mind." Make sure to put healthy foods such as raw vegetables in your sight and junk food out of sight.
Plan a snack between breakfast and lunch and a snack between lunch and dinner. Make sure to have something healthy available, to prevent choosing junk food from a vending machine.
Put your snack foods up really high in a cabinet that requires a ladder to get to. This will keep you from getting the foods because it requires a lot of effort.
If you need to keep your mouth moving, try gum or even chewing on a toothpick or straw. You are probably not hungry, you just need something for your mouth to do.
Try to only eat foods that contain good stuff. Read labels to make sure you are getting adequate nutrition.
Forget what your mother told you about cleaning your plate. Eat slower, and stop eating once you are full.