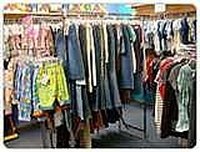 Many retail sellers are making money by buying designer wholesale used apparel cheap. These sellers are on Ebay, at Flea Markets and at online stores; some are making a living by selling used clothes. There are many places and ways to buy bulks of used clothes for very low prices.
Things You'll Need
wholesale designer clothes
Buy used wholesale clothes by visiting your local Thrift stores. Find designer women clothes in used, but good condition and cheap. At Thrift shops, apparel can be purchased very cheap giving you the opportunity to realize huge profits. Save money by asking for large quantity discounts.
If you buy from thrift stores, only purchase higher end brand names. Make sure to research which brands sell the best.

Buy used wholesale clothes by finding the Garage and Yard sales schedules in the newspaper. At these sales also ask for large volume discounts to save money. Remember that high end clothes have higher value with second hand buyers.

Buy used wholesale clothes like designer dresses, designer jeans and wholesale children clothes. Buy these clothes by the lot from surplus and liquidation wholesalers online. Inspect each item to make sure there are no holes or stains. Clean up the items if needed before placing it for sale.
Other ways to buy designer wholesale used clothes
Advertise in the newspaper stating you will buy good condition used apparel. Another way is to place a free add on any of the social websites.