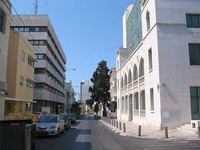 The Israeli stock market, TASE (Tel Aviv Stock Exchange), has been opened to world-wide investment through a number of reforms. The TASE finds its origins in the 1930's. It was formed prior to formation of the state of Israel through the Exchange Bureau for Securities. The TASE was formed in order to provide a formalized arena for the trading of securities. In the mid-1990's the TASE adopted computerized trading which abolished the traditional trading floor practices. It has continued to expand options available to stock brokers and consumers alike.
Choose to invest in Israeli stocks through the U.S. exchanges or directly through the TASE. Many of the large Israeli companies are dual listed in the U.S. market (NYSE, NASDAQ, AMEX). If the desired Israeli stock is listed in an American exchange, it will be easier for a U.S. resident to invest that way than directly through the TASE through existing U.S. bank accounts.
Choose an Israeli bank that offers investment services for the TASE, such as Bank Hapoalim. Open an account through the bank. Some of the smaller banks only have Websites in Hebrew, although that practice is becoming less common in the global economy.
Retain an Israeli stock broker or use Internet investment services offered by the Israeli bank. When choosing an Israeli stock broker from overseas, the larger the brokerage, the more likely that the firm will have an online presence and permit trading through this medium.
Conduct a wire-transfer of funds into the Israeli bank account to make stock market purchases. Dependent on the size of the funds transfer, there can be a two-week delay for credit and currency exchange to occur...whether transferring to or from one's Israeli account. Smaller banks will also be more likely to charge an exchange fee between currencies that should be taken into account when determining expenses and their impact on trading.
Determine an Israeli stock or commodity to invest in and in what quantity based on one's investment portfolio goals. Similar research on Israeli companies traded on both the TASE and NYSE is available. Follow the link in our Resources section for more information on that determination.
Initiate the stock purchase or sale with the stock broker or Internet service. The short title for the stock will need to be used. If selling stocks, specific direction with one's broker must be given, or the sale will occur effective at the end of the trading day.