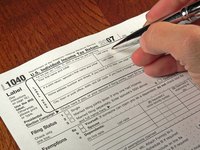 Filing as head of household can provide a taxpayer who is supporting a dependent child with tax benefits similar to those enjoyed by married couples. Taxpayers who qualify as head of household can take advantage of the Earned Income Credit, if applicable, and will generally have a lower rate of tax liability. There are the requirements you must fulfill in order to qualify to file as head of household.
Maintain a household with one or more qualifying dependents. You must be the person who is primarily responsible for paying more than 50 percent of the bills and any other living expenses associated with maintaining your home for yourself and your dependent child or children.
Remain single for the entire tax year. The head of household filing status for income tax purposes is for individuals who are not married. You may also be eligible to file as head of household if you are a widow or widower. For the tax year of your spouse's passing and the first two years thereafter, you are considered a qualifying widow and will receive the same tax benefits you did when you were married filing jointly. If you are divorced and your divorce was finalized during the tax year for which you are filing, you are considered single.
Determine if you can be considered unmarried. In some cases, you can still file as head of the household even if you are still legally married. In states where there is a legal separation status, you can file as head of household if you have the paperwork to establish you are separated. You can also qualify yourself as not being married if you have not lived with your spouse for six months or more during the tax year.
Check to ensure your dependents are deemed qualifying dependents for tax purposes in accordance with the Internal Revenue Service stipulations. In most cases, a dependent will be your biological or adopted child who lives with you full time or for more time during the year than with her other parent. Foster children are often considered dependents as well if they live in your household for more than six months during the tax year.