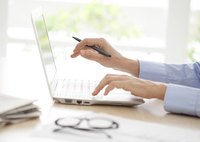 In your business plan, the company description is a snapshot of what your business does, who it serves, how it operates, and what sets it apart. This snapshot is provided in a paragraph or two, so potential investors immediately understand your proposal. Despite its brevity, the company description should be comprehensive, demonstrating you know your business and why it will be successful.
What You Do and Why It Matters
State explicitly what kind of operation you have and its primary business focus. Identify the market your business serves. A chain of dog grooming shops that serves guardians of show dogs and high-wealth owners could emphasize its focus on high-end clientele while still serving everyday dog owners. "Pampered pooch is a service business that provides dog grooming to guardians of canines that participate in competition dog shows. In addition, pampered pooch provides grooming services to dog owners in our local community of Santa Monica, California."
How You Fill a Marketplace Need
Emphasize how your business fills the needs of consumers. Describe how your operations are structured to meet those needs. "Our business has a convenient brick-and-mortar shop centrally located in a population-dense area of Santa Monica with late opening times to cater to the urban professional dog owners who require dog grooming. For an additional fee, we travel to client homes to provide on-site grooming specifically to prepare canines for dog shows or media appearances. Staff who cater to dog show clients receive additional training in the specific requirements of American Kennel Club regulations."
Who You Serve and How
Identify your specific customers and how you will market to them. "As a community-focused grooming shop we receive 70 percent of our business from walk-in traffic and repeat customers. The remaining 30 percent of our revenue comes from clientele we develop through marketing activities with local dog show organizations."
Include specific information about the buying habits of your potential customers and how you plan to retain that clientele. "Guardians of show dogs require maintenance grooming on a monthly basis and styling services prior to shows and media appearances, for a total of approximately 16 visits a year. Other guardians on average come in for grooming bi-monthly, or six visits a year."
What Sets You Apart
Conclude your company description with what makes you better than your competitor. Your company should have a distinct competitive advantage. It could be the skills that you and your staff bring to the enterprise, your unique marketing opportunities or an exclusivity -- such as a patent -- on a product or service. "Our company is run by owners with 30 years of experience as handlers on the dog show circuit. Using our connections within the dog grooming community we have developed notable clientele."