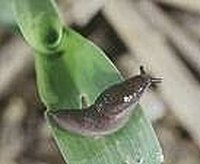 Slugs are basically snails without shells and they are apparently very hungry because they eat through plants very quickly. If you know you may have a problem with them in your yard, it will be helpful to know which plants to avoid planting in your garden.
Slugs love nearly all vegetation but are particularly drawn to any young foliage. Seedlings are very attractive to hungry slugs as is any damp area in your yard.
Plants that are known favorites of slugs include hostas, wild ginger, Japanese painted fern, bellflower, leopard's bane, lobelia, daffodils, lilies, blue oxalis, violas, begonias, and primroses.
Slugs will also eat fruits and vegetables. Their all time favorite seems to be strawberries followed closely by lettuce. Slugs will eat any tender fruit or vegetable although some have reported that they do not like onions.
Some slugs are also carnivorous and will feed on a deceased carcass or even on each other.